Highland Council push River Ness amphitheatre concept
|
Send to friend
May 25 2018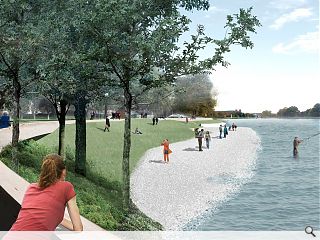 The Highland Council have published fresh concepts for 'The Gathering Place', a public art project destined for the banks of the River Ness.
Simply titled 'My Ness' the concept calls for a focal gathering point to be created at the Little Isle Pool off Fisherman's car park by forming a semi-circular amphitheatre in the heart of the city looking out to a smaller twin on the opposite bank.
A refuge from everyday life the contemplative space will offer expansive views of the river, incorporating its own walkway and seating area to encourage use.
Tristan Surtees of arts practice Sans Facon, who delivered the design in partnership with OSA, said: "The work aims to complement the river and people's relationship to it, to frame and invite others to appreciate it.
"A thin ribbon of stone frames the Ness, starting as an access, becoming a path to run along for a child, a bench for reading a book, a viewing point up and down the river, a back-rest for looking across it. In its upstream portion it weaves through the trees and bushes to offer a unique view up the river or back to the Castle and Cathedral."
The project is the direct successor to a
pivoting pier
promoted as centerpiece of the River Ness Arts Project in 2015.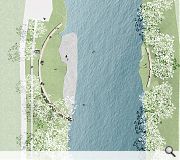 Further detailed design work is planned prior to a full planning application
Back to May 2018