31,000 trees to be planted for Scotland's largest new park
|
Send to friend
July 30 2019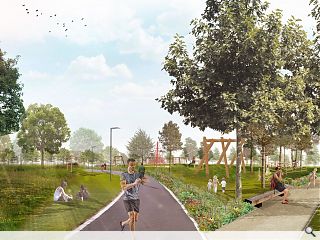 Winchburgh Developments have begun preparing the ground for a 78-acre park at Winchburgh which will entail planting some 31,000 new trees on a former West Lothian landfill site.
Auldcathie Park has been designed by Optimised Environments to eventually play host to a 2.5km loop of woodland walks connecting to the Union Canal as well as meadows, wildlife habitats and an orchard in addition to a café, public conveniences and an orchard.
John Hamilton, CEO, Winchburgh Developments Limited said: "The new Auldcathie District Park is an integral part of the Winchburgh masterplan, bringing important new green infrastructure to the area and connecting the town via a network of blue and green links. The response from the Winchburgh community to this project has been fantastic, and their ideas and recommendations have been incorporated into the final design for the park, which will provide important new recreational facilities benefitting the health and wellbeing of the people living and working here.
"We will continue to maintain contact with the local community as the park naturally evolves. Over one and a half acres of the park will be transferred to Winchburgh Community Growers, and we are also assessing wider opportunities for a potential community management scheme on a long-term basis."
The first phase of the park is expected to open by spring 2021 when it will form part of the Central Scotland Green Network.
The scheme follows plans to create the largest new park in Edinburgh for over a century.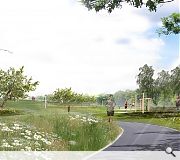 Adjacent arable farmland has been earmarked for a new schools campus as part of a wider masterplan which will bootstrap the current village with an additional 3,450 new homes
Tree planting at scale is seen as a vital to mitigate future climate change
Back to July 2019