St Andrew's Old Course hotel set for 'vertical expansion'
|
Send to friend
July 24 2019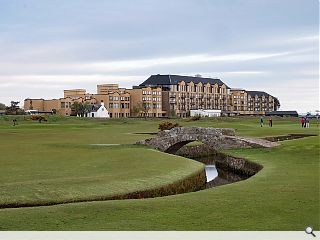 The Old Course at St Andrew's, considered to be the oldest golf course in the world, is set for some new neighbours with the submission of plans to significantly extend an accompanying hotel.
Proposals prepared by NMA Architects would both increase the number of bedrooms by 31 as well as doubling capacity of its function room to 600 by adding an additional floor of accommodation above the 'Hall of Champions'.
Outlining their goal to achieve both aims while minimising its site footprint the architects wrote: "The object was to minimise the use of land to create the additional space required and repurpose existing space within the hotel at ground floor and use the loadbearing capacity of the existing structure to expand vertically."

New additions will retain the same materials, roof profiles and details to fit in with the current hotel.
Back to July 2019