Future of Ayr Station hangs in the balance as council explore all options
July 24 2019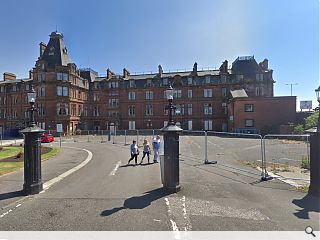 The future of Ayr Station lies in doubt after South Ayrshire Council confirmed that all options remained on the table as it explores the best way forward to create a new railway station for the town.
The B-listed French-Renaissance-style Station Hotel remains encircled by scaffolding after structural engineers declared the building to be unsafe, forcing ScotRail staff to decamp to hastily erected portacabins as a makeshift solution.
A detailed report on the integrity of the building will be shared with a task force assembled to resolve the issue at the end of the month, with its findings likely to prove crucial in determining what the council does next.
A spokesman for Transport Scotland said: "There is clearly an urgent need to build adequate station facilities at Ayr station, one of ScotRail's busiest.
"Ideally, this should be linked to plans for the Station Hotel, Burns Statue Square and soon to be demolished Burns council office building. We stand ready to provide further support and guidance as this plan progresses."
As an initial measure Abellio ScotRail has appointed IDP Architects to improve access to a temporary ticket office by carving out a 1.8m wide pedestrian route through a stone boundary wall.
Back to July 2019