Historic Inverness property set to be rebuilt
July 3 2019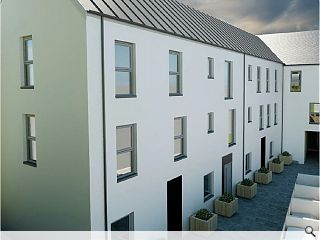 A dilapidated B-listed building within the Inverness Riverside Conservation Area is to be converted into eight flats and a ground floor commercial unit under planning proposals prepared by CRGP.
Dating from the 18th century the current structure has been served with a dangerous buildings notice by Highland Council since falling into disuse.
Renovation plans detail a twin-track approach for the city centre site, conserving the Castle Street frontage while rebuilding an interior courtyard to create a more open environment, retaining a historic gateway to reopen a former through route at a later date.
Contained within the courtyard are the remains of a historic gateway. This would have been the entrance to a long staircase that would have led to Ardconnal Terrace. At the top of this staircase was where public hangings once took place. Hence why the gateway is inscribed with the phrase 'Feir God, dvt not' (fear God, doubt not)."
As part of this work, the rear of the building will be rebuilt on the same footprint with later extensions demolished and new setts laid.
Back to July 2019