Larbert church seeks to instil a sense of place
|
Send to friend
July 2 2019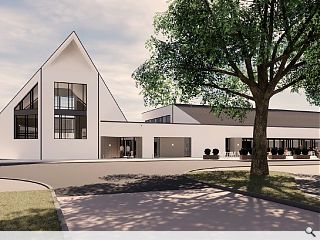 Wilson + Gunn Studio is spearheading plans for a new church and community centre within the grounds of the former Bellsdyke Hospital, Larbert, much of which has now given over to new housing.
Occupying the site of a former administration block, the retained façade for which was demolished in 2018, Grace Church will present its front face toward MacIntyre Avenue with the main entrance defined by a triple-height sanctuary space.
In a statement the architects observed: "The brief called for a distinctive building with an open inviting appearance, bringing interaction and life where it interfaces with McIntyre Avenue.

"Internally the building is designed around a central 'meet and greet' social space which provides access to the café area, crèche and the other accommodation beyond."

Finished predominantly in white render and Trespa panels the facility aims to create a 'bold landmark' within its suburban setting with a fully glazed café spilling out onto the street.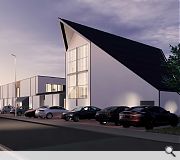 A triple-height sanctuary space will serve as a local landmark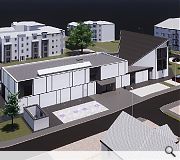 CALA Homes have built on surrounding land
Back to July 2019