St Andrews hotel builds on historical precedents
|
Send to friend
July 2 2019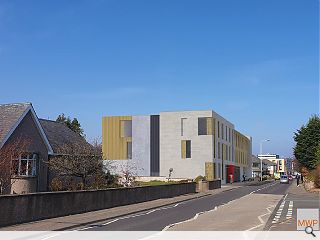 St Andrews is to benefit from the addition of a new hotel under plans submitted to Fife Council by Muir Walker & Pride at 37 Largo Road.
The 62-bedroom hotel has been proposed on behalf of property developers Waverley Tweed and will entail replacement of a garage unit.
In a design statement, MWP wrote: "The form & materiality of the design is influenced by the architectural elements & pattern of buildings within St Andrews. Rounded turrets at street corners, towers, pend accesses & the corbelling out of upper floors are architectural elements commonplace within the centre of St Andrews and define the vernacular.

"These key elements are reinterpreted within the proposal to develop a contemporary response to the built form and urban fabric of St Andrews. The palette of materials and external finishes are carefully selected to ensure a lasting and well-detailed building is constructed."

A materials palette spanning ashlar stone, gold metal panels, render and glass has been selected for the build.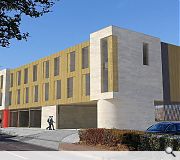 A rounded corner carries echoes of turrets common elsewhere in the town
Back to July 2019