CDA brings up the rear at Haymarket hotel extension
|
Send to friend
July 1 2019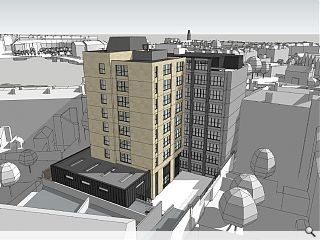 CDA has brought forward plans for a 47-bedroom rear extension to the Haymarket Hub Hotel at Clifton Terrace, Edinburgh on the edge of the New Town Conservation Area.
Located opposite Foster's Haymarket development the scheme will update the present hotel's appearance by over cladding a rear concrete elevation visible from Morrison, all that remains visible of an earlier exposed aggregate concrete panel office block built in the seventies.
Overcladding the rear elevation will harmonise its appearance with the front façade which was given a similar appearance during conversion work to a hotel back in 2011, while also blending in with a nine-storey new build extension.
In their design statement, CDA wrote: "The existing hotel requires additional space for amenity and back of house facilities which have currently crowded the serving courtyard. A key aim of the proposal is to provide an extension to house this requirement, provide more efficient use of the space and improve the hotel's appearance towards Rosebery Crescent lane and overlooking properties."

The lower two floors, which house a kitchen and dining space as well as back of house facilities, will be clad in dark grey metal cladding.
Back to July 2019