Foster & Partners detail Haymarket proposals
|
Send to friend
June 12 2019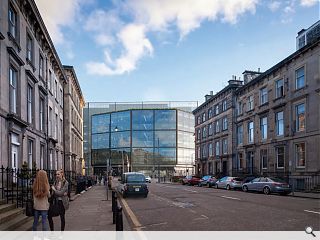 Foster & partners have brought forward their plans for a major mixed-use scheme at Haymarket in Edinburgh following the abandonment of a prior scheme by Richard Murphy Architects.
Acting on behalf of new owners QMile Group and M&G Real Estate the practice seeks to replace the 'void' formed by the present gap-site with five new buildings grouped around a large public square at the heart of the site.
These will offer active street frontages with building heights dipping towards the south to maximise natural light within the while deferring to the colonies of Walker Terrace.
Articulating this approach the architects wrote: "The proposals are formed around the key idea of making a new place in Edinburgh. This is achieved by simply forming the void that is the current empty site into a positive addition to the public realm by structuring its edges with new buildings and entrances to make a positive space: one that can add to the urbanity of the city and become an amenity for the local area as well as the city at large.
"The buildings are designed to be simple and calm, to offer elevations that work on the scale of the streets around the site with maximum ground floor use and activation to be as positive an addition to the streetscape as possible."

The accommodation mix will include twin office blocks conjoined by a shared atrium space as well as hotels with the central square providing a space for events such as markets with landscape architecture proposals being developed around the idea of forming a 'natural amphitheatre'.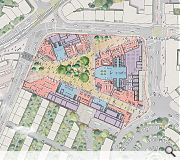 A public events space will be situated at the heart of the plan
Surrounding streets will be met with active frontages
Back to June 2019