Sculptural marketing suite illustrates how Edinburgh Park stacks up
|
Send to friend
June 21 2019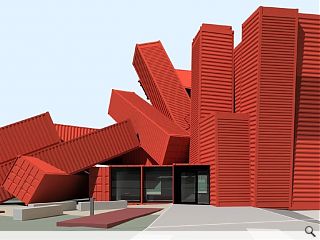 Parabola Edinburgh has commissioned artist David Mach together with architect Dixon Jones and landscape architect Gross.Max to conceive of a temporary marketing suite for the southern phase masterplan of Edinburgh Park.
Earmarked for brownfield land off Lochside Way the pavilion will make use of disused shipping containers by stacking them unconventionally to achieve a sculptural effect while providing room for a café, meeting areas, workshops and a double-height presentation space.
Outlining their methodology behind the scheme Dixon Jones wrote: "Although shipping containers are often used to create occupiable space they are typically geometrically laid out and/or stacked and therefore easy to seal, insulate and clad internally.
"The sculptural form here makes this approach impractical. Instead, the internal spaces are enclosed more conventionally with an insulated and waterproofed building. This is then clad in a mix of container-like cladding panels over the waterproof building with standard (albeit truncated in some instances), shipping containers forming the remainder of the sculpture."
Occupiable space will be arranged over two levels within a mix of orthogonally arranged containers and others deposited more haphazardly. This form is extended to the landscape with graphic blocks of colour serving as paving, parking and planting.
Back to June 2019