Edinburgh Park poised for major expansion
September 21 2018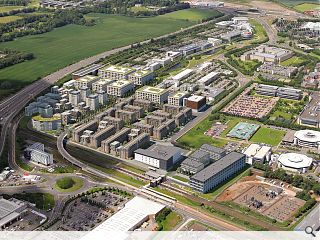 A £500m Edinburgh Park masterplan conceived by Dixon Jones, Allford Hall Monaghan Morris, Lifschutz Davidson Sandilands and Sutherland Hussey Harris with Gross Max landscape architects could get underway within a matter of weeks should Edinburgh City Council lend its approval.
Developer Parabola is seeking to build 1,800 homes and up to 1,000,000sq/ft of office space on 42 acres of land on the city's western fringes complete with a wealth of on-site amenities including recreation grounds, a civic square, shops and cafes.
Parabola founder Peter Millican remarked: "Our vision for this new quarter of the city is to create vibrancy, a place of wellbeing within a sympathetically crafted landscape that is an exemplar of quality design."
First phase works would include no less than seven individual office blocks together with two multi-storey car parks with the developer emphasising its cultural and creative credentials by dotting a series of sculptures within extensive parkland grounds.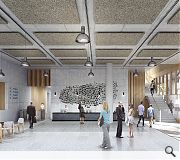 Amenities will include a include a 200-seat conference facility, café, bar and restaurant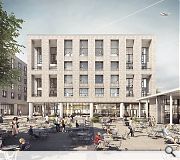 The 'urban quarter' will include its own energy centre
Back to September 2018