Portobello homes target Swift renaissance
|
Send to friend
June 10 2019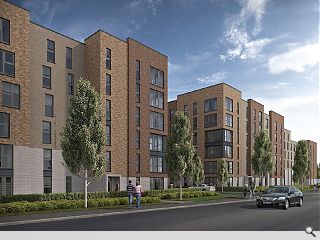 A housing development in Portobello is being promoted as an attractive nesting site for birds thanks to its use of swift bricks.
Specified by Barratt Homes the scheme comes in response to an RSPBV study which identified the city as one of ten UK locations where swift numbers and nesting sites have experienced the sharpest declines.
The Strand at Portobello, designed by EMA Architects, will employ these custom bricks throughout, each designed to be fully drained, ventilated and unobtrusive by colour matching with regular bricks.
Mike Clarke, chief executive of the RSPB, said: "There's nothing quite like seeing and hearing swifts soar over rooftops as they perform breath-taking aerobatics at incredible speeds on a summer's evening. Although their calls can make it seem like there are a lot of them, unfortunately this is a bird we are very concerned about as there are less than half the number we used to see in our skies in the 1990s."
Regeneration of the brownfield site at Fishwives Causeway would deliver a total of 435 homes, including a mix of colonies, apartments and houses, arranged around a network of shared streets.
Swift bricks are being used at a separate apartment scheme in Haymarket as part of concerted efforts to replace lost urban habitats found in older buildings as they are renovated and destroyed.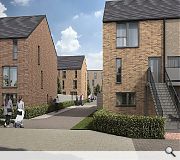 Some 66 colony homes will be built as part of the development
Back to June 2019