Haymarket homes bring an ecological edge to the city
March 27 2019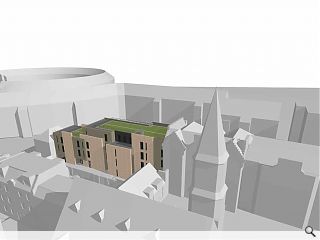 NR Investments are seeking planning permission to build 38 studio apartments at Edinburgh's Richmond Terrace ahead of the planned closure of an existing vehicle repair garage later this year.
Located close to Haymarket Station the student project seeks to repair the urban fabric by infilling a gap in the streetscape, mediating in scale between adjacent tenements and colony buildings.
In their design statement Alpha 1 Architecture wrote: "The design strategy is to reduce the building to a series of constituent elements which reflect the rhythm and scale of the surrounding buildings. This strategy forms a transition between the more vertically orientated buildings to the south and horizontally orientated buildings to the north."

An ecological focus to the design will see a green roof installed alongside 'Swift bricks' inserted into the façade to provide a readymade nesting site for birds, helping to compensate for a wider loss of habitat.

The predominant finish for the building will be in buff brick with timber finish cladding panels.

Back to March 2019