Infill flats to bookend Restalrig tenement
June 6 2019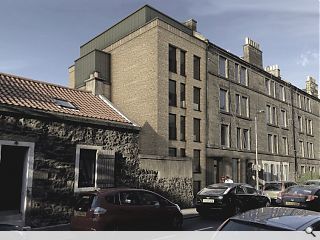 Johnston Harris Architects have filed plans to replace a pub in the Restalrig area of Edinburgh with a 'bookend' development of seven flats.
The unlisted 'Bunch O'Roses' will be demolished to make way for the six-level scheme, masking a rendered gable with an ordered brick façade and metal clad upper level to provide appropriate punctuation to the street line.
A design statement supporting the proposed design read: "High quality, minimal detailing will be adopted throughout the proposal with refined brick detailing to openings, minimal edge profiles to copes and hidden gutters emphasising the simplicity of form and distinguishing the proposed new build from its earlier counterpart."
A ground level balustrade, terrace and garden will afford a degree of privacy to the ground floor.
Back to June 2019