Port Dundas homelessness centre expands
May 14 2019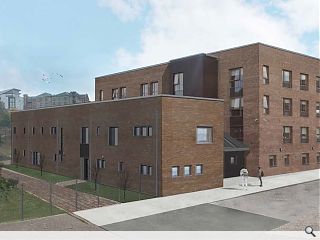 Glasgow City Council has tabled plans to erect a 54-bed extension to an existing homelessness assessment centre by the Forth & Clyde Canal at Rodney Street, Port Dundas.
The expansion has been necessitated by the planned closure of an existing hostel at Clyde Place in Tradeston and will replace temporary cabins which have been in use since September last year.
Phase two plans drawn up by Project Management and Design will create a permanent facility directly connected to the phase one building, allowing the temporary cabins to be dismantled upon completion in 2020.
In a statement, the design team wrote: "PMD have consciously approached the design with a view to referencing many of the characteristics of the existing building. The proposed extension is intended to appear less like a later stage addition and as though it was always part of the original design."
Facilities provided by the new space will include offices, meeting areas and a medical treatment room. A self-contained studio flat for disabled service users will also be provided alongside a new public entrance and private internal courtyard.
Back to May 2019