SPT offers the first glimpse of its new driverless Subway fleet
May 8 2019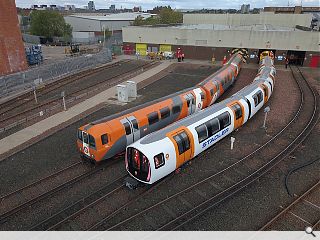 SPT has taken possession of the first of 17 four carriage subway trains which will eventually circle beneath the streets of Glasgow once a programme of testing and tunnel upgrades complete.
Manufacturer Stadler will now put the trains through their paces to ensure a smooth migration to passenger service once new communication and control systems have been installed across each station and connecting tunnels.
Built to the precise dimensions of the diminutive Victorian network the new carriages appear much the same at first glance but upon entering passengers will be able to traverse the entire length of the train without obstruction.
Moreover, the fleet will operate without drivers, giving passengers a rollercoaster view of their journey with a fully glazed window to the front and rear, increasing passenger capacity from 270 to 309 in the process.
Temporary cab partitions have been installed for initial passenger runs which will be removed following a full transition to unattended operation.
A £288m modernisation of the city's subway system has seen 11 of 15 stations revamped; with remodelling of St George's Cross and Cowcaddens to be completed this summer.
Kinning Park and West Street will be the final two stations to benefit from the programme, with refurbishment commencing at the end of the year.
Back to May 2019