TGP helm Cambuslang park proposal
|
Send to friend
May 8 2019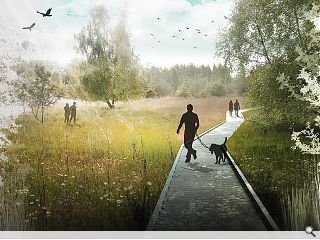 TGP Landscape Architects have conceived a feasibility masterplan to regenerate a former steelworks at Hallside, Cambuslang, as parkland.
Hallside Heritage Park sits within walking distance of the Drumsagard Village housing development and has been earmarked as a gateway site for rail travellers heading to Glasgow from the east.
The current site had been neglected since being planted in the early 1990s, becoming a source of anti-social activity before being taken on by a local residents association in 2009 with the aim of creating a properly maintained public park and woodland.
In a statement, TGP wrote: "The project brief for Hallside Heritage Park included the consideration of park design, wildlife conservation, industrial heritage, active and passive recreational use and education with a view of designing a new community green space which would also become a destination to attract visitors.
"The masterplan includes the introduction of new entrance points, amenity park space and enhanced paths/walkways to link with existing marginal areas in the centre of the site."
Planned improvements include a central open ecology/SUDS and picnic area as well as new corten signage, sculptural entrance features and a potential mountain bike track.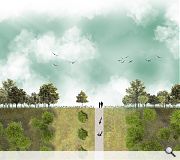 The park will plug into a wider green route network of core paths
Back to May 2019