Paisley regeneration brings 100 new homes
|
Send to friend
May 7 2019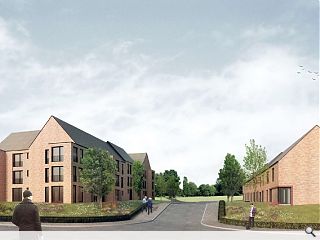 The Link Group have filed plans drawn by Collective Architecture and RankinFraser landscape architecture to build 100 affordable homes on brownfield land in the Millarston area of Paisley.
Comprising a mix of semi-detached and terraced homes in addition to cottage flats the project replaces three multi-storey blocks of flats and low-rise accommodation dating from the 1960s, all of which was cleared by 2007.
The new approach is to introduce predominantly two-storey homes alongside a four-storey block of flats, retaining existing mature trees in a new park and maintaining a respectful distance from a railway line.
Before any of this can take place however a programme of costly re-grading works are required to level off a parcel of land characterised by steep gradients, necessitating a restrained architectural approach.
In a planning statement, Collective wrote: "We have expressed the building gables at key points around the site to delineate routes through the development and to create strong public edges. These gables are animated with offset windows at ground and first floor and help to effectively punctuate the more regular runs of the main elevations."
In a nod to the industrial heritage of the area, the practice has opted for stock facing brickwork in a variety of finishes, with areas of feature colour delineating selected windows and entrances.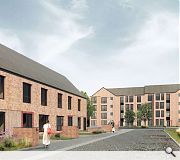 Colourfful brick detailing will enliven the facades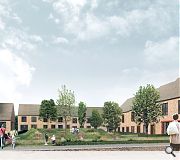 Prior to the 1960's the Millarston area of Paisley was dominated by industry
Back to May 2019