Ayr action plan prioritises new event space, public realm & leisure centre
|
Send to friend
May 3 2019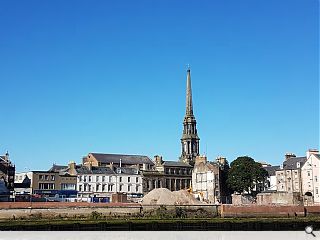 South Ayrshire Council has devised an action plan to deliver a riverfront events space, a new leisure centre on the High Street and improved public realm.
The three-pronged strategy seeks to reinvigorate the town centre by opening up a recently cleared riverside site, once earmarked for a new council HQ, as a pop-up events space for markets, exhibitions and performances.
Additional plans centre on The Arran Mall which has been identified as the preferred site for a central leisure facility, together with a programme of public realm improvements to enhance pedestrian and cycle links via new paving, street furniture and lighting.
Donald Gillies, director – place at South Ayrshire Council, said: "Retail in Ayr is struggling in common with most towns in Scotland. We need to look to other initiatives to reinvigorate the high street and are focusing on culture, heritage, leisure and recreation to encourage people back into the heart of Ayr Town Centre.
"I believe that modern leisure facilities in the high street, regular live events and attractive places to socialise and relax will help sustain a thriving town centre for years to come."
Design teams will now be appointed to bring forward detailed plans prior to further consultations and eventual phased delivery through to 2023.
Other plans underway include the regeneration of Riverside Place and a refurbishment of Ayr Academy.
Back to May 2019