The University of St Andrews takes possession of new student residences
April 24 2019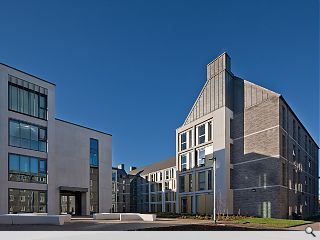 The University of St Andrews has taken possession of 184 student residences adjacent to the B-listed main University Hall in a joint venture with Campus Living Villages.
Whitehorn Hall has been designed by HLM as an annexe to the current hall, adopting the form of collegiate style quads to address the Baronial and Gothic qualities of the Old Wing in a modern style.
Each block sits below a zinc-pitched roof with dormer windows, employing a palette of grey brickwork and polished concrete in deference to the predominant use of sandstone across the campus. Projecting bays are used to give prominence to active ground floor uses.
Named after British journalist Katharine Whitehorn, the university's first female rector, the build features a double-height common space with quieter study spaces above.
Commenting on the project, HLM associate Ross Barrett said: "Recognising the internationally renowned reputation of the University, the redevelopment builds on the traditions of St Andrews, whilst providing world-class accommodation with the student experience at its heart. HLM's bespoke design and delivery processes have created a unique space, allowing the modern student to prosper."
Whitehorn Hall sits alongside a sister residential development at Powell Hall which delivers a further 205 bedrooms.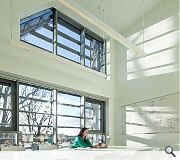 All photography by David Barbour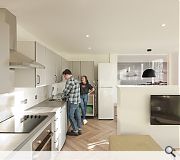 The design seeks to encourage interaction and engagement between students
Back to April 2019