A9 masterplan seeks to redefine roadside services
|
Send to friend
April 17 2019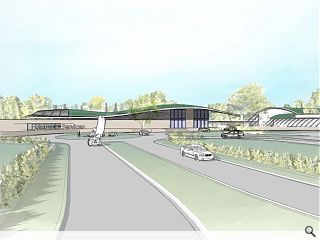 GB Grove have filed an application in principle to create a green roadside service station at Kinbuck serving northbound traffic on the A9 outside Dunblane.
Occupying land previously utilised for commercial forestry the proposals call for creation of a petrol filling station, restaurants and hotel within a landscaped masterplan focussed on central water features.
Outlining the design intent behind the project Convery Prentice Architects wrote: "The goal of this development is to combine the elements of the contextual with the contemporary motorway service station to create a development that relates to both, providing a development that relates strongly to the local area while also providing the facilities of a modern service station.
"The buildings have then been arranged in a loose cluster around a central water feature, with the smaller buildings closer to the A9 and larger buildings to the rear this again reduces the impact of the development. This fragmentation of the development combined with the tree planting lessens the commercial nature of the site and compliments the existing landscape character…"
Detailed design work has yet to be carried out but the intent is to create a series of low lying structures, green roofs and belts of trees to shelter the development within the wider landscape.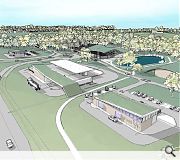 Previous attempts to introduce business and leisure elements have been dropped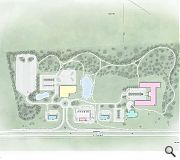 Water features play a key role in the plan
Back to April 2019