Penicuik town centre makeover continues
|
Send to friend
April 11 2019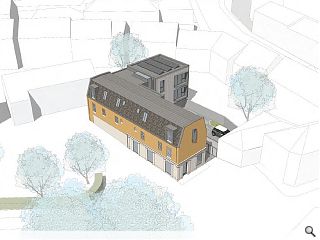 Penicuik's historic heart is in line for some much-needed cosmetic improvements with an application to alter and extend a rundown property overlooking the town's main square to provide six flats and one shop.
Outline plans brought forward by Optimised Environments would see the current structure repaired and renovated with the addition of a contemporary rear wing above undercroft parking.
Explaining the need for action the applicant wrote: "The northern edge of this portion of square is formed by our site, and whilst it is very probably perceived currently as low grade due to its relative state of disrepair the fundamental scale, form and articulation of the main façade does provide a certain gravitas and charm. If enhanced, and activated, this building element would hugely benefit the overall feel and quality of The Square, and greatly improve the image of the town on approach from the south."

Designated as an area of high priority by Midlothian Council the site joins a programme of streetscape enhancements being undertaken as part of wider regeneration efforts.
Back to April 2019