Glasgow grid spreads to St Enoch's with 12-storey hotel bid
March 29 2019
Urban Innovations have prepared detailed plans for a statement 165-bed hotel rising 12 storeys above the junction of Old Wynd Street and Osborne Street, Glasgow.
A hotel operator is already on board for the venture which will include a mid-level public terrace aligned with the prevailing street shoulder line, creating a street face before the main tower element.
Contemporary metal panels with vertical glazing and projecting metal fins to provide depth and privacy to the rooms, adding a functional and decorative finish to the structure.
In a submission statement the architects wrote: "The proposed development is intended to enhance Osborne Street and mesh with the existing fabric of the surrounding area.

"The preferred option divides the massing into two distinct elements that enable a distinct reference and change in scale along Osborne Street. This helps to break down the overall perception of the building mass and integrate it with the immediate street context but in a contemporary and new way."

Blank gables are presented to adjacent plots where the aspiration remains to see future development to reinstate the street frontage.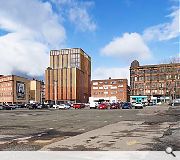 Longer term it is hoped to fill neighbouring gap sites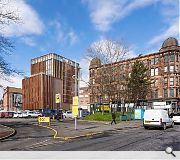 Public areas will provide an active frontage to the street
Back to March 2019