GRAS and wHY win £25m West Princes Street Gardens competition
August 1 2017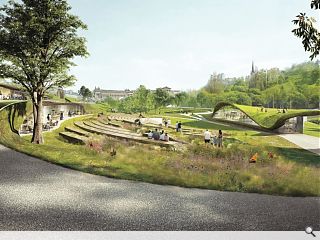 Local practice GRAS, in association with US-based wHY, have emerged as unanimous victors in a prestigious design competition to overhaul Edinburgh's West Princes Street Gardens.
The Ross Development Trust awarded the £25m commission,
after shortlisting seven design teams for the job
, which will include creation of a new landmark performance space, visitor centre and café at the Ross Pavilion.
The winning 'butterfly' design adopts a landscape first approach in the form of an undulating promenade, improved access down from Princes Street and sculptural seating.
Jury chair Norman Springford commented: "wHY demonstrated an impressive collaboration which respects and enhances the historical context and backdrop of the Castle and the City, whilst creating new heritage and increasing the green space within the Gardens."
Mark Thomann, wHY's landscape design director, added: "This is a special opportunity for a special place, not just for Edinburgh but the world. The new Ross Pavilion and Gardens draw from the rich natural history, heritage and creative spirit of Scotland, embodying a model approach for integrating public architecture and urban space in a top global city."
The winning team comprises GRAS, Groves-Raines Architects, Arup, Studio Yann Kersalé, O Street, Stuco, Creative Concern, Noel Kingsbury, Atelier Ten and Lawrence Barth, who will now develop their design ahead of a construction start next year.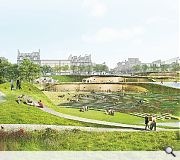 Low slung terraces will preserve open aspects to the castle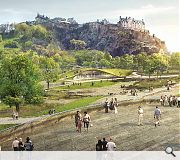 wHY will now consult with the public on their gardens proposal
Back to August 2017