Edinburgh's Ocean Terminal dazzles with colourful new look
March 19 2019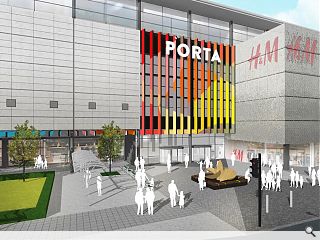 Resolution Property have brought forward plans for a significant facelift to Edinburgh's Ocean Terminal Shopping centre, rebranding it as the Porta Centre in the process.
A design submission by Threesixty Architecture outlines the full refurbishment of entrances and the façade with a vibrant colour scheme modelled on the Royal Navy's dazzle camouflage luring shoppers inside.
Outlining their colourful approach the architects wrote: "One of our key objectives for the fresh of Ocean Terminal was to inject colour and warmth into what is a high quality but rather sterile mall environment.
"We propose to introduce a palette of warm colours that will change from one to the other as they travel along the mall. This affords the opportunity to create distinctive spaces dependant on the dominant colour in their location along the mall journey, whilst providing a consistent motif throughout the space."
Mirrored panelling, translucent polycarbonate and an illuminated light box will be used to achieve this effect, working with textured steel, mirrored panels, concrete and timber.
Bolstered by the Newhaven tram extension and significant residential development the scheme seeks to take the form of a 'town centre' with complementary leisure, community and civic functions in addition to retail. Communicated by the new outward facing façade.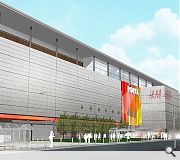 A new entrance feature and signage will provide a greater sense of arrival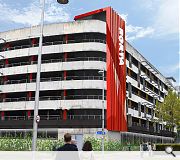 Car parks will be selectively overclad in coloured fins
Back to March 2019