Wester Hailes capitalizes on Edinburgh small sites drive
March 11 2019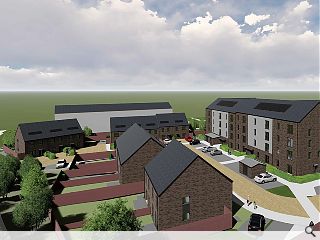 The City of Edinburgh Council's 21st Century Homes program has taken another step forward with the submission of second phase plans for 49 new homes at Dumbryden Drive, Wester Hailes.
The small sites initiative is being delivered by Robertson Partnership Homes who will transform the 2-acre brownfield site, formerly occupied by Dumbryden Primary.
The design proposal calls for a 'suburban block' to be built, broken down into a single block of flats to the east and four smaller blocks of semi-detached houses to the north and west, with space between earmarked for green space.
Finished in a mix of red and brown multi tone brick and white render the scheme will see living rooms oriented toward public streets.
Phase one of the project is now on-site.


Back to March 2019