Moss signage welcomes students as Heriot Watt grows
March 5 2019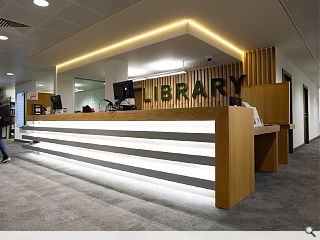 Heriot Watt University have reopened the Cameron Smail Library following completion of the first elements of a wider refurbishment by Lewis & Hickey.
This saw the ground floor area transformed through the introduction of mobile shelving and study areas. Elswehere the main reception has been given a makeover with the installation of new offices and meeting rooms, tying in with a remodelling of the entrance floor.
Statement 'library' signage highlighted in treated Nordic Moss defines the new look with furniture fabric designed by students from the School of Textile and Design.
In a statement the practice wrote: "This four-storey 're-imagining' of the building seeks to transform the Library into an environment that caters for the needs of students today and in the future. Variety and flexibility of the study spaces allows students to choose how they study and interact with other students."
Later phases will include the creation of open access collections and informal study areas on the third floor as well as additional study pods, IT labs and flexible studio space.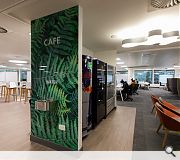 All images by John Need Photography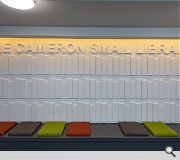 Full completion is expected by autumn 2019
Back to March 2019