River Kelvin set for 49 new homes
March 5 2019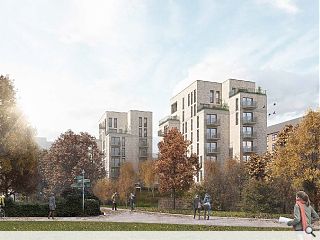 Queensberry Properties are going back to the drawing board with plans for residential development at Glasgow's Otago Lane since acquiring the site last year – potentially ending a three-decade-long saga to develop the site.
Newly submitted plans from jmarchitects call for 49 flats to be delivered in four blocks along the riverbank, which will be landscaped by RankinFraser to retain existing trees while creating semi-private courtyards between each.
In a massing statement the architects wrote: "Within the wedge-shaped site, Block A has been located adjacent to the existing properties to help reinstate the fabric of the lane.

"The gable of block D faces onto Otago Lane and careful consideration of the elevational treatment has been taken. To negate any privacy issues, only two windows are located on this gable. It is proposed that the façade will be wired to allow climbing plants to green the façade, and to enhance the environment on the lane.

"The two largest blocks, B and C, are located to the east of the site. They are set back from the site's boundary to ensure a substantial green corridor borders the river."

Two storey setbacks are introduced at a high level to soften apparent scale with a palette of light brick above a darker base course. Projecting balconies and roof terraces will activate the river frontages.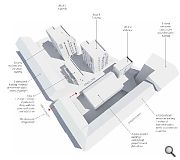 Apartments will be spread across four separate blocks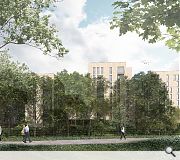 Mature trees will be retained where possible
Back to March 2019