'Lantern' landmark to puncture grey Aberdeen skyline with copper
|
Send to friend
February 27 2019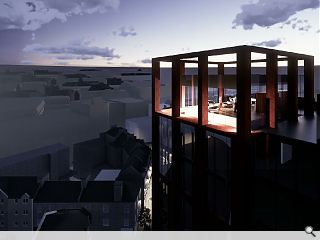 Patrizia have unveiled ambitious proposals to transform Aberdeen Market with an eye catching 'lantern' tower designed to enhance the city skyline.
Overseen by Halliday Fraser Munro the scheme would include creation of an outdoor market, public square and enlarged Green, achieved by shifting the main frontage east, with 130,000sq/ft of office space and active ground floor uses earmarked for new build elements.
Explaining their 'contrasting towers' vision the architects wrote: "In contrast with the rising granite and glass towers, the verticality of the landmark tower is emphasised by expressing the frame at each structural bay and every second floor.
"The frame rises high above the building to create a dramatic beacon, where its heavy steel structure protects a delicate glass box which can be seen around the city, particularly at night."
Utilising granite at lower levels the slender tower will segue to pre-treated copper for the bulk above, with extensive glazing at higher levels employed to maximise 360-degree views and reduce apparent mass.
The bulk of the block will be finished in a mix of granite and glass panels, taking the appearance of no fewer than eight shorter buildings, each conceived as a distinct element within the plan.


Back to February 2019