Precipitous footpath connecting Edinburgh's Old and New Town reopens
|
Send to friend
February 26 2019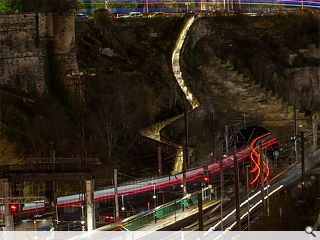 A dramatic path hewn from the volcanic rock of Calton Hill has been opened to the public once more following a programme of extensive repairs and improvements carried out by Edinburgh World Heritage.
Jacob's Ladder benefits from new lighting and handrails as well as stonework repairs allowing people to traverse all 140 steps from Calton Road to Regent Road in style, rewarding those who make the effort with expansive views.
EWH director Adam Wilkinson commented: "The ancient wynds and pathways of Edinburgh, each with their own stories and associations, are an important part of our rich cultural heritage. We want to encourage everyone to use these pedestrian routes, including closes, paths through burying grounds, and wynds, as they go about their daily business and perhaps explore their city a little in the process".
First documented in 1784 the route had fallen into disuse after falling into a state of disrepair, severing an important link between the Old and New Town.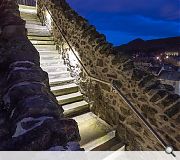 New lighting leads the way for the fit and curious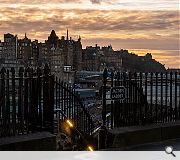 Photography by Tom Duffin
Back to February 2019