Edinburgh terraced housing wins approval
|
Send to friend
February 25 2019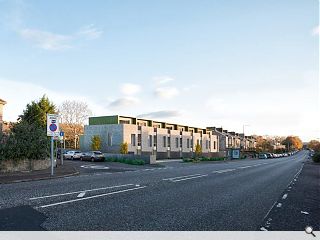 LBA and Wemyss Properties have won the backing of City of Edinburgh Council to proceed with a eight homes at Craigleith Terrace, in line with their Georgian forebears.
Comprising eight properties the scheme replaces a former petrol filling station, creating a contemporary infill development finished in buff traditional clay facing brickwork.
Articulating their design concept LBA wrote: "Each house of the terrace is formed around an 'L-shaped' brick wall in its plan, each one overlapping the next, wrapping and protecting the inhabitants and orientating them towards the glazed façade to the rear and out towards the terrace and garden.

"As the brick wall of each of the houses wraps around onto the front South-East elevation it forms an elegant, slender and simple repeated façade motif for each house, reminiscent of a Georgian terrace."
A recessed second floor is designed to contrast with the main façade. Finished in vertical metal cladding it aligns with the ridge line of neighbouring homes.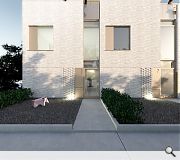 Brick will extend through the rear glazed facade to form individual garden walls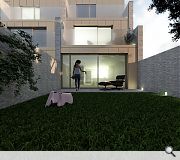 Full-height glazing will address the more private rear facades
Back to February 2019