MacTaggart & Mickel to first-foot Ayrshire with Greenan care home
December 20 2018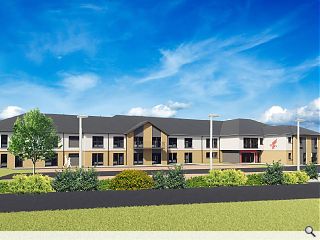 Housing developer Mactaggart & Mickel has pledged to commence construction of a new care home at Greenan, South Ayrshire, by late January.
The traditional build has been designed by Colin Armstrong Architects and will take the form of a 52-bed residence set within landscaped grounds, offering personalised care for the elderly.
Taking its design cue from Greenan Views, a selection of properties currently being built by the same developer, all named after some of Scotland's most famous architects, the finished build will be operated by Meallmore.
Jamie McLean, head of contracts and timber systems, said: "We will bring our award-winning Mactaggart & Mickel construction expertise to bear, having ensured that the design of the care home blends seamlessly with nearby housing and other amenities."
Construction is expected to take 16 months with completion by spring 2020.
Back to December 2018