Dundee care home to cater for growing demand
December 10 2018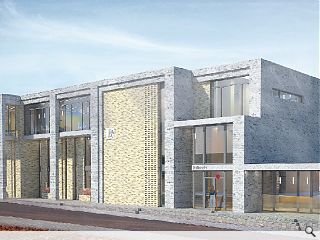 Balhousie Care Group and James Paul Associates have brought forward plans for a new care facility on vacant scrubland at Fairmuir Road, Dundee, to the north of the city centre.
Intended to 'bridge the gap' between neighbouring commercial and residential neighbourhoods the chosen design mediates in scale between businesses and homes with a stepped profile formed from buff and light grey coloured brick and aluminium features.
Two sheltered internal courtyards are included in the plan, encouraging socialisation between residents while also affording a degree of privacy.
In a statement the architects observed: "Whilst the site demonstrates a diverse mix of different materials, and indeed building typologies, the proposals here employ a sparse palette of high-quality materials and simple ordering in an attempt to provide a contemporary, unified element. The aim has been to develop a modern and contextually respectful development that seeks to both integrate within the existing area, and robustly reinstate the current void in the Fairmuir streetscape."
The completed care home will include a variety of therapy rooms and workshops.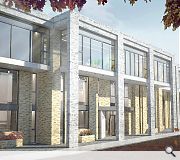 Brick piers lend civic presence to the main entrance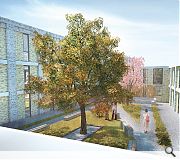 Twin internal courtyards sit at the heart of the plan
Back to December 2018