Screen Scotland invite developers to star in Port of Leith studios
December 7 2018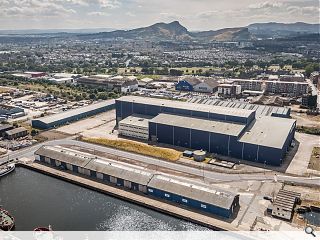 Screen Scotland has invited developers to tender for a role in a major film and television production studio in Port of Leith.
The ambitious vision focusses on the Pelamis Building, a vast industrial shed which would be refurbished to serve as a fully-equipped production base for crews seeking to film on location in Scotland.
Currently owned by Forth Ports the facility is no stranger to the big screen having played host Marvels Avengers: Infinity War last year to shoot key Edinburgh-based scenes in the blockbuster movie.
Screen Scotland executive director, Isabel Davis, said: "Its scale, accessibility, proximity to crew and central Edinburgh and its ability to be rapidly adapted make it a highly attractive proposition and one that could swiftly provide a home in Scotland for large scale productions."
Once remodeled the facilities attraction to producers will be greatly enhanced with 160,000sq/ft of adaptable interior space capable of accommodating up to five sound stages up to 100ft in height. Associated services include 27,000sq.ft of workshops, office space and a backlot capable of hosting large-scale set builds.
Back to December 2018