Falkirk forges ahead with canal 'front door'
November 30 2018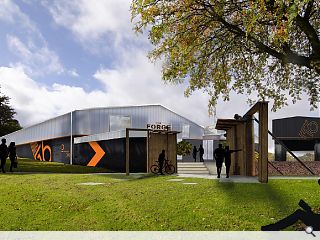 Oliver Chapman Architects are pushing ahead with a new canal hub in Falkirk which will see a former factory reimagined as a workshop, offices and training facilities for Scottish Canals.
Lock 16 Canalside Community Hub will take its place alongside other recent landmarks along the Forth & Clyde Canal such as The Falkirk Wheel and The Kelpies with the intention of establishing a common 'front door' for the network of waterside attractions.
Phased proposals call for the refurbishment of three interconnected steel portal frame sheds to form a large open plan volume with office space to the front. This process will see existing cladding stripped and replaced with a mix of translucent polycarbonate and corrugated steel, enabling activities taking place within to be silhouetted against the facades.
To further open up the interior existing boarded up openings will be reinstated while low level brickwork will be painted with 'bold graphics' to help jazz up the environment.
In a supporting statement the architects wrote: "The impressive roof structure and abundance of light in the central shed makes it an ideal space to house the main entrance lobby for the building as well as an open plan third party space.
"The smallest shed will house the public functions; the classrooms, records store and visitor facilities as well a five smaller third party units for let.
"All of the rooms that are required to be heated will be located in one of the three insulated structures constructed within the external envelope. The envelope itself will not be insulated to avoid the need to heat the large volumes within the sheds, making the building more energy efficient."
A separate garage structure will be transformed into an 'activities hub' under the plans.
Back to November 2018