Architects swap Paisley for Nairobi to oversee Kenyan assisted living complex
November 29 2018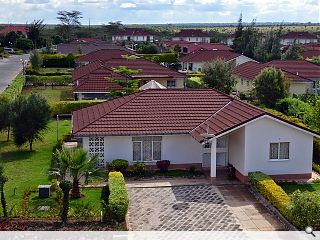 Paisley-based architecture practice Framed Estates has overseen a novel assisted-living complex on the outskirts of Nairobi, Kenya.
Fadhili Care at Greenpark Estate has been designed on behalf of Superior Homes Kenya to change the way that the elderly live across Africa by enabling residents to live closer to their families in a high quality environment.
Comprising 41 individual homes the complex comes equipped with a 24-hour emergency care service for residents.
Architect Sheenagh Gray commented: "Assisted living is a new concept for Kenyan society – the same could be said across many African countries. Historically, young people have moved to the cities for work and older people have remained in rural areas, which has created a disconnection in many families. This development aims to tackle that problem head-on, bringing different generations closer together and helping Kenya's elderly live more comfortably.
"There are significant benefits to be realised from working on international projects like this – not only have we worked with the local team to develop their skills, but they have given us new perspectives on architecture that we can bring into our work in Scotland and beyond."
Framed Estates plan further work with Superior Homes, targeting revenues of £250k for 2018.
Back to November 2018