Tayside Children's Hospital plans colourful new addition
November 28 2018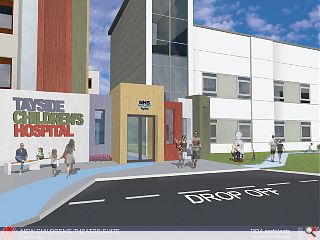 NHS Tayside have submitted an application to build a mew paediatric theatre, services and landscaping at Tayside Children's Hospital, Ninewells, Dundee.
Plans drafted by RDA Architects call for the creation of a 'gateway' entrance feature and 454sq/m rainbow clad extension to double existing theatre space.
This will allow a variety of new facilities to be included such as play areas, assisted bathing zones and quiet rooms on the site of existing laboratory facilities.
Scheduled to open in 2020 the £6.5m extension and renovation project is expected to start construction in the summer.
Back to November 2018