Sighthill regeneration picks up steam
April 19 2018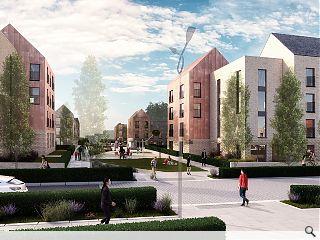 Delivery of 800 homes in north Glasgow is progressing apace after the city council signed an agreement with Keepmoat Homes to deliver the
Sighthill Transformational Regeneration Area
.
Overseen by LDA Design and Collective Architecture the £250m masterplan will replace 10 former high-rise blocks with low-rise housing, augmenting 140 GHA homes already delivered, with a school campus, a 'street in the sky' footbridge spanning the M8 motorway and a road bridge to Port Dundas.
A network of pedestrian and cycle routes, public spaces, allotments and parkland will be delivered in advance of the Keepmoat development breaking ground, incorporating a mix of lochans, burns and wetlands for drainage.
LDA Design Director Kirstin Taylor said: "This is a key moment in the history of Sighthill. We are delighted to have the opportunity to further progress the plans to create a welcoming place to call home that is well connected to the rest of the city.
"This was once a very close-knit community. In developing the masterplan, we wanted to create an accessible, social and safe place to live with a distinct identity that builds on this historic spirit of togetherness. As far as I am aware, it is the single largest landscape-led regeneration scheme in Scotland."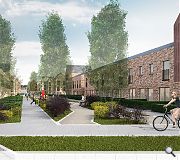 A pedestrian-focused boulevard with serve as a civic spine, connecting homes with new play spaces, plazas and transport links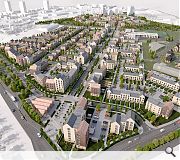 Over 1,000 homes will have been built when the scheme completes
Back to April 2018