Brownfield build to front Tay Bridge approach
November 15 2018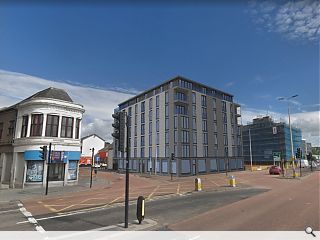 A.B Roger & Young Architects have come forward with plans for a mixed-use development at Trades Lane, Dundee, delivering 28 flats above ground floor retail.
Replacing a former warehouse the planned response will pull the building line out to the edge of the pavement with access provided by way of a pedestrian pend off Trades Lane.
Articulating their design response the architects wrote: "The Penthouse apartments are set back from the main façade reducing the verticality of the building and allowing the parapet level of the adjacent building to be reinforced in the proposed building.

"The appearance and scale of the building onto South Marketgait has been the main focus of the design with Unicorn house to the South West and DP&L building to the north east being the major considerations for the proposed building. The height of the proposed building lines through with the parapet height of Unicorn house which then has a corner turret and pitched roof above the parapet."

The project will be finished in stone at ground level with an assortment of grey metal used to finish the residential floors above.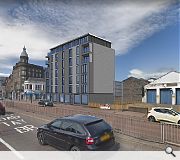 The homes will front a busy traffic artery serving the Tay Road Bridge
Back to November 2018