'Ethereal' Glasgow hotel to bulk up city centre grid
|
Send to friend
November 15 2018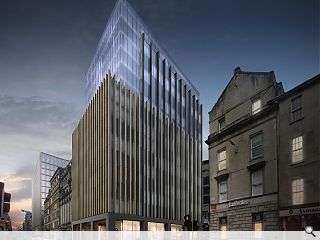 George Capital and 3DReid Architects have filed plans to replace an unprepossessing two storey structure at the junction of West Nile Street and Bath Street in Glasgow city centre with a new hotel build.
The chosen solution seeks to 'resolve' the block by framing adjacent listed buildings with a symmetrical frame with a solid structural grid used to lend solidity to a two storey base element. Vertical fins will help to articulate the facades with upper floors setback behind a simple glazed façade.
In a statement the practice observed: "In relation to the design, the proposal has been designed within the context of the surrounding conservation area. This results in something which is sympathetic to the aesthetics of the surrounding architecture, is considerate of the conservation area and also increases the attractiveness of the site and its surroundings.

"The upper level massing is to be set back from the facade edge, and "dematerialised" in order to separate the solid mass on Bath Street, and West Nile Street from the upper levels of the building. This would result in a simple glass form which would give the building an ethereal top."
Planners are now considering a demolition application for the Central Conservation Area site.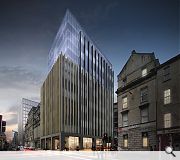 The new block will strengthen the grid iron structure of the city centre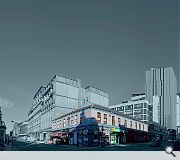 This rundown corner of the city is poised for dramatic change
Back to November 2018