'Spectacular' townhouses showcased at Liberton Barns
November 13 2018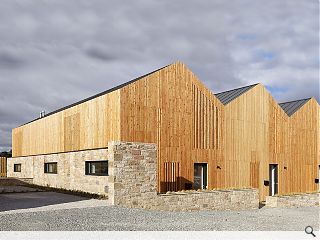 LBA with Glencairn Properties have showcased their latest completion, a terrace of townhouse properties in Edinburgh's Liberton.
Liberton Barns occupies the site of a derelict agricultural shed and steadings the four-bedroom properties benefit from open views across fields to both the Royal observatory and Liberton Tower, evoking memories of the previous buildings in its massing, form and materials – including the re-use of original stone.
Encased in slatted timber cladding, which wraps around both solids and voids to afford glimpses of light and movement within, the properties are designed to 'silver' with age, further bedding into the landscape.
Internally each four-bedroom home is arranged around a fully glazed external void courtyard slicing straight through from the roof to bring light and ventilation deep into the plan. Living areas are located on the first floor to benefit from the views with vaulted ceilings leading to a partally covered external terrace.
LBA managing director Lynsay Bell Manson commented: "The rubble stone wall which wrapped two sides of the derelict shed was key in defining the new buildings floor plate and site edge.
"We're extremely proud of this development with Glencairn Properties – it's been a labour of love. The new occupants are in for a treat with the low-level evening sun and how it will dance over the development, it's spectacular."
A B-listed farmhouse was converted during an earlier phase of work.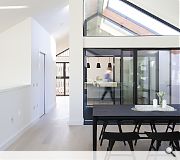 A vaulted living space extends to a partially covered terrace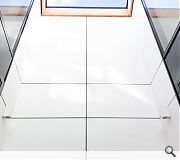 Central lightwells draw light and air deep inside each home
Back to November 2018