Edinburgh declares war on clutter and parking with New Town concept
November 8 2018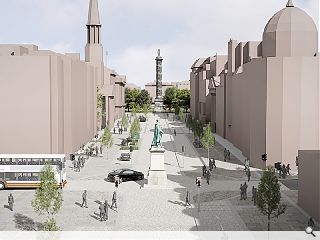 Edinburgh City Council and LDA Design have published draft concept design for a series of New Town public realm enhancements centred on George Street, including new squares, planting and cycleways.
One element of the council's City Centre Transformation project the plans seek to enhance the pedestrian environment by providing active travel options and improving accessibility.
Planned interventions include more outdoor seating, widening pavements, the formation of new plazas and the creation of twin segregated cycleways. Removal of street clutter and central median parking is also proposed, alongside a ban on waste collection and deliveries outside designated hours.
Transport & environment convener Lesley Macinnes said: "The concept design aims to create a world-class space that respects and enhances the World Heritage Site. It seeks to make the First New Town a safer and more vibrant area by opening up central places to more people and enhancing the current setting and position of the street's statues to make greater feature points of them."
A drop-in session to discuss the plans are being held today at the City Art Centre until 19:00, with follow up events planned for Friday between 11:00 and 17:00 and Saturday from 10:00 till 14:00.
Back to November 2018