Forth & Clyde 'smart canal' to unlock 110 hectares of development land
October 31 2018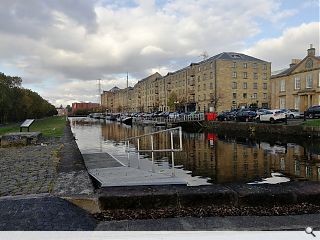 Glasgow City Council has marked the start of construction on what is being billed as Europe's first 'smart canal' scheme via the introduction of digital drainage technology to mitigate flood risk and thus enable wider regeneration.
The £17m initiative is expected unlock 110 hectares of development land to the north of the city, capable of playing host to as many as 3,000 new homes.
The Metropolitan Glasgow Strategic Drainage Scheme is being delivered in concert with Scottish Canals and Scottish Water and will bring an array of sensors and improved weather forecasts to give advance warning of potential flooding.
At such times excess rainfall may be redirected towards stretches of canal with lower water levels as well as urban drainage ponds and granite channels, increasing its capacity to cope with floodwaters.
Councilor Susan Aitken, Leader of Glasgow City Council, said: "This is a fantastic day for Glasgow's Canal, as we mark the introduction of cutting-edge technology that will both allow surface water in this part of the city to be managed, and allow the building of new homes and businesses on land that historically have been unfit for development."
As part of this work the canal will be connected to five new sites in Sighthill, Hamiltonhill, Ruchill Hospital, Cowlairs and Dundashill over the next 15 years.
Back to October 2018