Ground breaking hospice opens its doors in Bellahouston Park
October 30 2018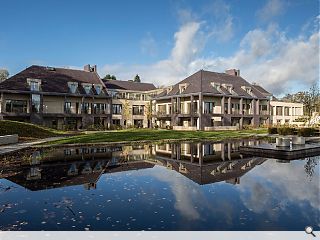 The Prince & Princess of Wales Hospice have marked a milestone moment with the unveil of a purpose-built care hub in the grounds of Bellahouston park, Glasgow.
Today's opening of The Arnold Clark Building is the culmination of a mammoth £21m fundraising drive over eight years to deliver purpose-built accommodation for 1,200 patients and their families within a parkland setting gifted by the city council.
Belying its size the hospice is partially sunk into a hillside and spread across interlinked 'villas' to foster a domestic scale and sit harmoniously within the landscape. Designed by Ryder Architecture and ERZ the building and grounds cater for patients as young as 16, providing palliative care and a supportive environment for them and their families.
Rolf Roscher at ERZ Studio told Urban Realm: "There are lots of different types of outdoor space. All the patient bedrooms are on the ground floor. They've all got their individual semi=private garden terrace space but then it opens out to the larger landscape to give views and space.
"It's ultimately an enclosed site, it's got a fence around it, but we've tried to integrate it visually. The building takes up less than 10% of the site with the rest taken up by landscaping."
The building itself adopts the Scandinavian Sengetun model of care, with Bellahouston being the first UK project to embody its principles. Alastair Forbes, architectural director at Ryder Architecture, said: "There is a back of house wing which digs into the hillside, that contains all the services which are not seen. That allows the front of the building to be far more domestic in scale.
"In the Sengetun model it's a perimeter of single, personal bedrooms with a nurses station in the middle so that they have full visibility of the bedrooms. We really liked that idea from visits as we wanted to avoid putting everything in corridors."
The move will see the hospice close the door on its Carlton Place city centre base, though not for the last time. The front door has been transported to Bellahouston Park to serve as a literal reminder of the hospices roots.
Back to October 2018