Old Town hotel shows its true face
October 18 2018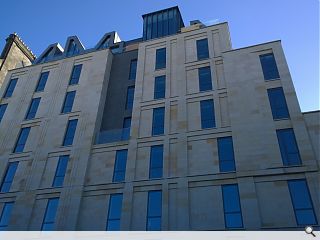 A £20m hotel in Edinburgh's Old Town has been unwrapped for the first time, showcasing the latest addition to the UNESCO World Heritage site.
The eight storey hotel is being delivered by jmarchitects on a prominent Market Street site, overlooking Waverley Station and sits behind a sandstone skin below a striking zinc and glass lounge and roof terrace.
Rod Duncan, director at jmarchitects, said: "This site has lain empty and derelict for nearly five decades and we are delighted that the public can finally see what we have achieved in remarkable surroundings. It is through a rigorous analysis of this historic fabric that we believe the design has developed to be truly respectful to its context. We are looking forward to seeing the hotel's doors open in the near future."
Developed by The EDI Group for the Carlton Hotel Collection work is now proceeding apace on the interiors, designed by FG Stijl, with a view to marrying the strong heritage of the area with modern day requirements.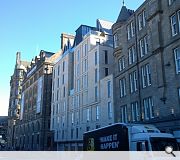 Upper floor guests will enjoy panoramic views across the Waverley valley to the New Town
Back to October 2018