Questions raised over GSoA's Mackintosh Building stewardship
September 20 2018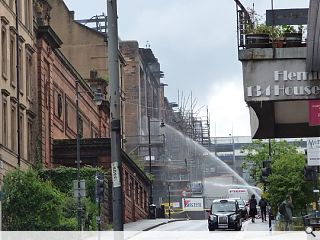 The Glasgow School of Art is facing some tough questions at a meeting of the Scottish Parliament's Culture, Tourism, Europe and External Affairs committee amidst a public inquiry into its stewardship of the Mackintosh Building.

Today's evidence session will consider written submissions prepared in advance by architect Malcolm Fraser, who has voiced alarm at the apparent use of PIR insulation as a 'cost cut'. He wrote: "Its use in the refurbishment is regrettable: in my view it should not be allowed near historic buildings, or homes… or any building, really.

"The GSA is the most painful of a number of recent fires in prominent historic buildings, often during building work. While Kier, the contractor, has noted comprehensive fire measures it seems likely that the investigation will find comprehensive fault in their composition and execution."

To prevent a recurrence in future Fraser recommends introduction of a mandatory fire risk assessment for historic buildings ahead of any construction work.

Mackintosh scholar Roger Billcliffe meanwhile questioned the official background given to the 2014 fire, writing: "A student was allowed to use banned materials within an exhibit which started a fire in a basement studio. At the time the director explained this as an unfortunate accident. Since 2014, however, it has been alleged that some staff tried to stop the student's use of these materials, but they were over-ruled by senior staff to whom the student appealed claiming a restriction/denial of 'artistic freedom'.

"Such actions by the School and its staff would be incompatible not only with simple health and safety concerns but are at the root of the different ethos of museums and art schools."

Other submissions will be heard from local resident Ewan Kennedy, interior designer Anthony Sully and Stuart Robertson, director of the Charles Rennie Mackintosh Society.
Muriel Gray, chairwoman of the GSA board, has already declared that the building will be rebuilt as a working art school irrespective of the costs and timescales involved.
Back to September 2018