Alan Dunlop draws support for £15bn Celtic Crossing
September 6 2018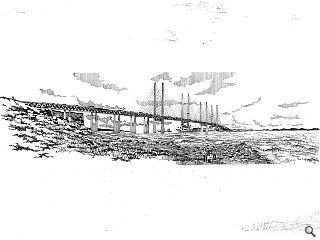 An ambitious vision to build a £15bn road bridge spanning the Irish Sea has been fleshed out by architect Alan Dunlop who has put pen to paper to visualise a cable-stayed solution.
Addressing an audience of architects, engineers at Robert Gordon University Dunlop went further, claiming that a Celtic Crossing between Scotland and Ireland would rebalance the UK economy.
Dunlop said: "We have the engineering and architectural talent and the capability to build this project; it would be a transformative economic generator and a world first.
"A bridge link will re-balance the over concentration of power in the south of England and could bring extraordinary benefit to many areas. It would be an investment in the true north."
In recent months the project has secured important political backing in government with the government's coalition partners the DUP said to be interested in the idea, although their political priorities lie elsewhere for now.
Back to September 2018