David Chipperfield unveils neoclassical Edinburgh music venue
August 24 2018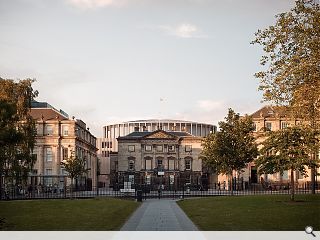 David Chipperfield Architects, with executive architect Reiach & Hall, have thrown back the curtain to a dramatic new music venue at the eastern end of Edinburgh's Georgian New Town.
The Impact Centre will house a 1,000-seat auditorium and secondary 200 seat performance, rehearsal and recording space and will also double as a new home for the Scottish Chamber Orchestra.
Facades have been conceived in relation to neoclassical base, middle and top with textured concrete chosen to relate to the predominant sandstones of the New Town. The main concert hall is elevated above an open plan foyer space, improving connections through this part of the city and remaining open out with performance schedules.
A metal clad dome meanwhile serves as a 'crown' and 'fitting terminus' to George Street. Directly below this dome a colonnaded promenade will offer visitors spectacular 360-degree views of the city with north and south facing terraces acting as open-air gathering spaces.
In a statement the architects said: "The building's functions are distributed within three simple, compact and intersecting volumes. The concert hall sits in the centre of the site within a pure oval volume; its shape and scale dictated by the acoustic requirements. Its elliptical form is topped by a shallow dome – an urban gesture which terminates the axial view west along George Street, with Dundas House prominently in the foreground.
"The venue's overlapping lower volumes are orthogonal in form and house its ancillary and public functions. These help to reduce the overall mass of the building and anchor it within the scale, geometry and atmosphere of the surrounding streets and neighbouring buildings. Overall, the venue seeks to form an urban composition centred around Dundas House, in balance with the prominent civic structures at the opposite end of George Street."
The 10,000sq/m venue will open its doors in 2021.
Back to August 2018