David Chipperfield makes an Impact with Edinburgh concert hall
March 15 2018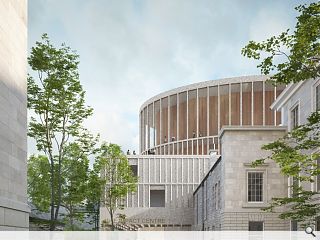 Initial designs for a purpose-built music venue and performance space in Edinburgh have been unveiled by the International Music and Performing Arts Charitable Trust, to accompany the latest public consultation on the planned scheme.
The Impact Centre
has been designed by David Chipperfield Architects (with Reiach & Hall acting as executive architect) as a new home for the Scottish Chamber Orchestra and will include a 1,000-seat timber lined auditorium defined by its acoustic performance, a 200-seat rehearsal space, cafe and community outreach centre.
Connecting the New Town to a redeveloped St James Centre with new public through routes the performance venue has been split into three key components, with a curving standalone concert hall framing the historic Dundas House at its heart.
A central arrivals space underneath this hall will double as a circulation hub, offering an active ground floor to surrounding streets and unify newly created public realm. This will be flanked by two ancillary buildings, lower in scale, to house supporting functions and better relate to the existing urban landscape while maximising light, air and privacy.
Chipperfield commented: "We are very excited to be working on the new music venue in a city renowned around the world for its arts and culture. The setting, within the context of Edinburgh's historic New Town, is also both stimulating and challenging. The new music venue will not only provide a modern performance space for Edinburgh but also create a new public place in this somewhat hidden corner of the city."
Gross Max are overseeing the landscape strategy which will include Caithness paving and scattered deciduous trees.
Back to March 2018