Lerwick to play host to modern day 'Gutters Huts'
August 23 2018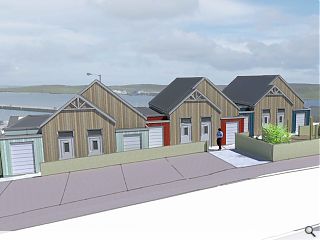 The Shetland Island capital of Lerwick could play host to new homes following submission of plans for a development of six flats at the junction of North Road and Stanley Hill.
DITT Construction have identified the steeply-sloping triangular plot, within walking distance of the city centre, as suitable for six one-bedroom flats on a lower and upper ground floors of the steeply sloping site.
In a statement DITT Construction wrote: "The upper floors comprise of vertical timber clad facades with a profile sheet metal roof, reminiscent of these old buildings. The ground floor acts as a plinth for these, with brick being used as a suitable material where they rise out of the ground and horizonal timber boards used to define the lower flats.
"The small entry porches give a shared access area that picks up on the communal nature of these original communities that existed in the area. The flat-roof sections break up the form of the building and their different coloured walls add to the individuality of the flats. The form and siting of the building follows the pattern of housing that stretches up the west side of North Road of houses sitting up above street level looking out towards the sea."
Modelled on the type of 'Gutters Huts' once found in the area the scheme is intended to be both distinctive and subservient to the existing settlement pattern of this part of town.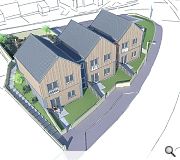 Lower flats can also be accessed from the upper level and include their own patio area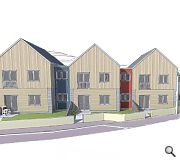 properties will be finished in larch boards, blue engineering brickwork and sheet cladding panels
Back to August 2018